Cell Culture
Cusabio's Animal Free Cytokines
Our partner Cusabio provides a range of animal free cytokines covering most of the factors commonly used in cell culture.
Feature of the Cusabio Animal Free Cytokines:
1. Animal Free
Without animal-derived pathogens in the culture system, it is the best choice to clinical cell culture.
Without xenogeneic rejection and allergic reactions, it is more suitable for in vivo experiments.
Without the interference of animal proteins and hormones, the experimental results can be more stable and reliable.
2. Low Endotoxin
Endotoxin Level 0.1 EU/μg
Endotoxin levels as low as 0.01 EU/μg for customers with special needs
3. High Activity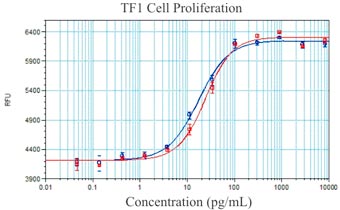 Recombinant Human GM-CSF (CSB-AP002081HU)
Blue Curve CUSABIO Recombinant Human GM-CSF, ED50=0.0175 ng/mL
Red Curve xx Company Recombinant Human GM-CSF, ED50=0.0244 ng/mL
4. High Purity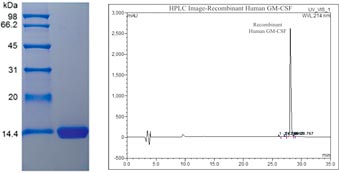 Recombinant Human GM-CSF (CSB-AP002081HU)
5. Good Stability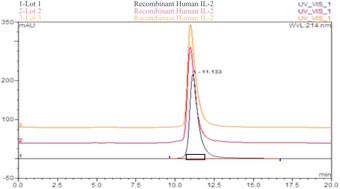 Recombinant Human IL-4 (CSB-AP001691HU)
Selected Cusabio Cytokines for Cell Culture:
CIK (Cytokine-induced Killer Cell)
| Target | Code | Source | Tag Info |
| --- | --- | --- | --- |
| Human IFN-γ | CSB-AP004201HU | E.Coli | Tag-Free |
| Human SCF | CSB-AP002061HU | E.Coli | Tag-Free |
DC (Dendritic Cell)

NSC (Neural Stem Cell)
HSC (Hematopoietic Stem Cell)
ESC (Embryonic Stem Cell)
19.02.2020